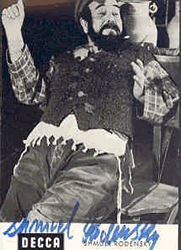 Shmuel Rodensky was born on the 10th of December in 1904. He came to
Palestina in 1924. In most sources it is written that he was born in
Vilna, Russia, he was really born in Smorgon, Vilna region. He was an
actor. Rodensky is particularly well known in Israel for his large
appearance and baritone voice . His most well-known film projects,
which made him well known also in Europe , were 1974 "the document
Odessa" (as Simon Wiesenthal) and 1975 "Moses - the legislator" (as
Jitro). In the German family film "Heintje - my best friend" of 1970
Rodensky participated likewise, as in the 1981 produced mini series
of "Silas". Beside his film projects Rodensky was also a well-known
stage actor. In German-language Europe he became e.g. starting from
1968 particularly by the main role the milk man Tevje in the musical
"Anatevka" (original title: "Fiddler on the Roof"), whose melodies
with Rodensky are available as German original admission still today
on record, CD or up-to-date even as bell clay/tone for mobile phone in
the trade. He passed away on July 18th, 1989 in Tel Aviv.