Khayele and Leyb Rozental
To hear the music go to: http://www.ushmm.org/museum/exhibit/online/music/detail.php?content=yisrolik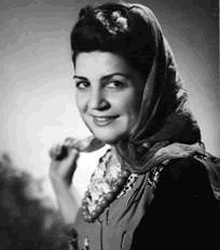 Khayele Rozental, circa 1946. Courtesy of Naava Piatka (www.naava.com).
Born in Vilna in 1924, Khayele Rozental, the younger daughter of Fruma and Nohum Rozental, was one of the most popular singers in the Vilna ghetto. She established her dramatic and singing talents at an early age, and at 16, when Lithuania was still under Soviet occupation, she was chosen to represent Vilna at the Festival of Songs in Moscow. Her musical and theatrical development was to take an unexpected turn with the 1941 Nazi invasion of Vilna. Her father, a respected Jewish intellectual, was one of the first Vilna Jews to be killed. Soon after, she and her mother and siblings were forced into the ghetto.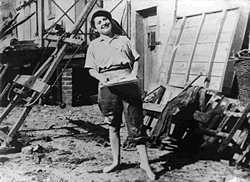 Chayela Rosenthal recreating her role as the ghetto street peddler "Yisrolik," Paris, ca. 1948.
In ghetto theatres, cafés and clubs, Rozental worked as a singer in jazz ensembles, and later as a star in musical productions, many written by her brother Leyb. These musicals were popular amongst the ghetto inmates, most of whom had already lost family and friends. Under these harsh conditions, the pleasure of song and dance, and the humour and irony of these often cynical depictions of ghetto life and Jewish history, were a much-needed distraction. Rozental's most popular role was as the orphan girl Peshe, the star of the comic revue 'Peshe fun Reshe' (Peshe from Reshe) written by her brother Leyb and the composer Misha Veksler.
The period of relative ghetto calm, when theatre and musical productions were blossoming in the ghetto, was short-lived. In the fall of 1943, the ghetto was liquidated. Khayele 's brother was sent to Estonia, where he perished; her mother had already been transported to a death camp, leaving the remaining siblings to be deported to Kaiserwald. There the two managed to survive, starved and sickly, until the liberation in March 1945. Even throughout her months in Kaiserwald, Khayele continued to sing for the comfort of her bunker-mates and herself. Remarkably, just months after her liberation she was back on stage, giving concerts with the Yiddish State Theatre for the thousands of Jewish refugees located in Displaced Persons' camps in Germany.
In 1951, Khayele and her husband moved to Cape Town, South Africa, where they had two daughters, Naava and Zola. She continued to perform for appreciative audiences in South Africa, Israel, and even on Broadway, before passing away suddenly in 1979.

Sources
Katsherginski, S. and H. Livick, Eds. (1948). Lider fun di Getos un Lagern. New York, Alveltlekher Yidisher Kultur-Kongres. php?id=119

BRIEF HISTORY OF CHAYELA ROSENTHAL,by her daughter; Naava Piatka.http://www.naava.com/Page562.htm
to learn about Naava: http://www.naava.com/Page343.htm
Yisrolik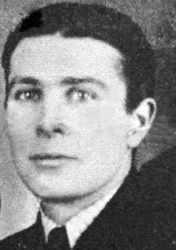 Leyb Rozental, songwriter, poet, playwright. Vilna, Lithuania, ca 1940.
— Naava Piatka/United States Holocaust Memorial Museum
typo3.ort.org/index.

Leyb Rozental
Leyb Rozental, circa 1940. Courtesy of Naava Piatka (www.naava.com).
Leyb Rozental, born in 1916, was the oldest child in a highly cultured Vilna Jewish family. His parents, Fruma and Nohum Rozental, and his two sisters, were all artistic and well educated. His youngest sister Khayele was a talented singer and actress, and was to find her first success performing her brother's compositions. Leyb himself was a poet, publishing his first poetry book at the age of fourteen. In the Vilna ghetto he became one of the most successful writers of musicals and theatre revues. The powerful lyrics of his productions "Peshe fun Reshe" (Peshe from Reshe) and "Moyshe halt zikh" (Moyshe hold on) captivated their audiences. In addition to his work for the theatre, Rozental wrote many independent songs, both for his sister and for other singers in the ghetto. For historians, these songs offer a precious window onto the realities of daily ghetto life. When the final liquidation of the Vilna ghetto took place in 1943, Rozental was sent to the Estonian concentration camp Klooga. He died there in January 1945, probably drowned in the Baltic Sea.

Sources
Freund, F., F. Ruttner, et al., Eds. (1992). Ess Firt Kejn Weg Zurik.: Geschichte und Lieder des Ghettos von Wilna, 1941-1943. Vienna, Picus.
Silverman, J. (2002). The Undying Flame: Ballads and Songs of the Holocaust, Syracuse University Press.