Ita and Chaim Shapiro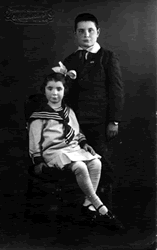 Ita Shapiro (later Ein Dor) is the daughter of Yehuda Shapiro b. 1901 (Vilna) and Miriam Rabinowicz 1896 (Vilna). Ita's brother Chaim was born in 1925, and she was born on April 25, 1929. They lived in Vilna where her father managed a furniture store belonging to an uncle, Kaufman Rabinowicz who had immigrated to Palestine along with two children. Kaufman's wife, Berta remained behind in Vilna with a sickly child. Ita's mother owned a children's clothing store that she ran together with her sister prior to her marriage. The family members were active Zionists and preparing to immigrate to Palestine once they obtained certificates. Ita studied in public school but her brother Chaim attended the Tarbut gymnasium.
In June 1941, Germany invaded Lithuania and soon established a ghetto in Vilna. The family already lived within the ghetto's borders and could remain in their own apartment for a short time sharing it with many other people. They later were forced to move to a smaller apartment. Ita's father worked outside the ghetto with a Lithuanian in the furniture store he had previously owned. Chaim also had a permit work to outside the ghetto sorting clothes which were collected from the population and sent to soldiers on the front. He often stole the nicer items and sold them in the ghetto. Ita attended school in the ghetto and attended all of the concerts and plays. She lived near the theater and could sneak in through a secret entrance without a ticket. The Shapiro family remained in the ghetto until it was liquidated in September 1943. They were marched to the Christian Rossa cemetery where women and men were separated. After a night in the Rossa, Ita's father and brother were sent to the right. Ita never saw them again. Her mother was probably sent to Treblinka.
Ita and her cousin Katia were sent to the Kaiswerwald Concentration Camp near Riga where they remained for one week. Their clothes were confiscated and they received concentration camp uniforms and numbers. Afterwards they were sent to forced labor at the AEG (Allgemeinen Elekricitats Gesellschaft) factory where they worked outside in the assembly line working with peat. Ita, together with a friend Ada Natik were the youngest workers there. They worked there for 2 years when they were sent to the concentration camp of Torun until liberation. Conditions there were worse than in Riga. Ita was helped to some extent by Katia Magid and a friend of Katia's, Fanya Szuster during these two years. At one point she lived with them in the same barracks and slept in the same bunk. She often had dreams and would hit Fanya at night causing her teeth to bleed.
Ita remained in Torun until she was taken on a march to Stutthof. They then were sentt to Bydgoszcz where they remained for a year. Afterwards Ita- spent considerable time in children's homes; first in a Kibbutz in Lodz and then in and other places including Puste, Ludiwokova and Chantilly where she was put in charge of five young children during 1946-47. Ita immigrated to Israel on the Kedma in 1947 and lived with her uncle in Tel Aviv. She later became a teacher in the Kibbutz Ein Hashofet. In 1952 she entered the Hebrew University where she studied geography and history. She also met her future husband, an immigrant from Australia there. Ita has two children and five grandchildren.