Maximilian Steinberg
From Wikipedia, the free encyclopedia

Maximilian Osseyevich Steinberg July 4, 1883 [O.S. 22 June] – December 6, 1946) was a composer of classical music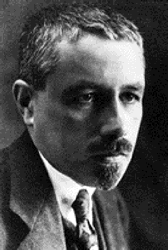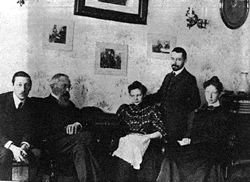 From left; Igor Stravinsky, Nikolay Rimsky-Korsakov, Nadyezhda Rimsky-Korsakov Steinberg, Maximilian Steinberg, Yekaterina Stravinsky, 1908.
Steinberg was born in Vilnius. His father, Osey (Hosea) Steinberg, was a leading Hebraist. In 1901 he went to Saint Petersburg, to study biology at Saint Petersburg University. He graduated in 1906. In the meantime he also started studying at the Saint Petersburg Conservatory. He entered Anatoly Lyadov's harmony class, moving on to Nikolai Rimsky-Korsakov's harmony class and Alexander Glazunov's counterpoint class. His considerable talent in composition soon showed, encouraged especially by his mentor Rimsky-Korsakov. He graduated from the Conservatory in 1908. Fellow student Igor Stravinsky felt disgruntled at the apparent favor of Steinberg by Rimsky-Korsakov over him.[1] Nevertheless, Steinberg named Stravinsky one of his closest friends when the latter had made a big name in the West, a move Stravinsky strongly resented.
In 1908 Steinberg married Rimsky-Korsakov's daughter Nadezhda. Rimsky-Korsakov died the same year, and Steinberg edited and completed Rimsky-Korsakov's monumental treatise, Principles of Orchestration, later published in Paris. Steinberg became first a lecturer, then in 1915 Professor of Composition and Orchestration, at the Conservatory, a post his father-in-law had held. He held numerous other posts at the Conservatory; among other things, he was, from 1934 to 1939 a deputy director, before he went into retirement in 1946. Steinberg played an important role in Soviet music life as a teacher of composers such asDmitri Shostakovich, Galina Ustvolskaya and Yuri Shaporin. He died in 1946 in Leningrad.
Musical style
Steinberg was considered first as a great hope of Russian music, and was occasionally even more highly estimated than his student colleague, Igor Stravinsky. He rejected Stravinsky's and other modern styles, usually preferring the style of his teachers and showing the influence of the nationalistic Mighty Handful as well. His composing technique is handled with firm control and brilliant orchestration - these features have been noticed most often about his compositions.
Many of his works use world literature for their subjects. The dictates of socialist realism as they affected music starting in 1932 meant no great changes for him, since his style already was mostly in conformity with what was requested. He tended to select the topics of his programmatic works more often now on national topics, and let himself be influenced more often by musical and literary folklore. As a composer, Steinberg is today little known; it did not help that even at the time he was considered eclectic. More importance is attached to him now as a teacher.
His first two symphonies have been recorded by Neeme Järvi for the company Deutsche Grammophon.
Partial list of works
• For orchestra
• Symphony No. 1 in D major, Op. 3 (1905/06)
• Symphony No. 2 in B-flat minor, Op. 8 "In memoriam Nikolai Rimsky-Korsakov" (1909)
• Symphony No. 3, Op. 18 (1928)
• Symphony No. 4 "Turksib" (1933)
• Symphony No. 5 "Symphonic Rhapsody on Uzbek Themes" (1942)
• Variations for Large Orchestra in G major, Op. 2 (1905)
• Symphonic Prelude "in memoriam Nikolai Rimsky-Korsakov", Op. 7 (1908)
• Fantaisie dramatique, Op.9 (1910)
• Solemn Overture on Revolutionary Songs from 1905-7 and 1917 (1930)
• In Armenia, Capriccio (1940)
• "Forward!", heroic Uzbek Overture (1943)
• Violin concerto (1946)
• Stage works
• Metamorphosen, Ballet after Ovid, Op. 10 (1913)
• Till Eulenspiegel, Ballet (1936)
• Incidental music
• Vocal music
• "The Water Nymph", Cantata for Soprano, Women's Chorus and Orchestra, Op. 7 (1907)
• "Heaven and Earth" for Voice and Orchestra after Byron (1918)
• Four Songs with Orchestra after Rabindranath Tagore, Op. 14 (1924)
• Songs
• Choruses
• Chamber music
• String Quartet No. 1 in A, Op.5 (1907)
• String Quartet No. 2, Op. 16 (1925)
The eleventh of Nikolai Myaskovsky's symphonies (Op. 34, in B flat minor) is dedicated to Steinberg. (See Myaskovsky's opus list[2] which also contains a transcription, dated 1930, by the slightly older composer of Steinberg's third symphony for piano four-hands.)
1.
References
• Taruskin, Richard (2000). Defining Russia Musically: Historical and Hermeneutical Essays. Princeton: Princeton University Press. pp. 455–457. ISBN 0-691-07065-2.
• Steinberg opus list from van Rijen's site
Further reading[edit]
• Walsh, Stephen. Stravinsky: A Creative Spring; Russia and France, 1882-1934. New York: A. A. Knopf, 1999. ISBN 0-679-41484-3. Contains many details about the course of the relationship between Stravinsky and Steinberg.
• Principles of Orchestration at Project Gutenberg (by Nikolay Rimsky-Korsakov, edited by Maximilian Steinberg and translated into English by Edward Agate).
--
to LitvakSIG
?

Many times, it is interesting to connect the records available
to us with things we read about, especially for Jewish cultural
figures. One such instance is that I happened to be reading the
New York Times. I noticed that a piece, "Passion Week" by
Vilnius-born composer Maximilian Steinberg was mentioned as
being premiered this past Tuesday in New York.
He was a very talented composer, born on June 22, 1883 (his
Wikipedia and other resources state he was born on July 4, 1883),
who left Vilnius in 1901 for St. Petersburg (Leningrad) to study
and whose musical mentor was Nicolai Rimsky-Korsakov. He later
married Rimsky-Korsakov's daughter Nadezhda. Quite a fascinating
and long-forgotten personality.
As Steinberg was from Vilnius and there are many records for that
large town, I was curious as to whether the LitvakSIG All Lithuania
Database included any records for Steinberg's family. I checked and
found that, indeed, there was a birth record for Maximilian under
the spelling SHTEYNBERG.
In many of the other resources one can find on the Internet, his
father was listed as Osey, a Hebraist, head of the Jewish Teachers'
College in Vilnius. This found to be correct as it was noted on
his birth record. In addition, his grandfather's name, Naum, was
listed as well, although his mother's name was not.

At that point, I could have continued to search for prior generations
as I noted that there were quite a number of Osey records. In fact,
there was a Osey SHTEYNBERG, who was a Public Rabbi of Vilnius, and
an Osey, who married Beila RABINOVICH, born 1835. It would have been
interesting to determine if Beila's father Iser RABINOVICH was a
member of the well-known rabbinical family.
Further, there was the option of contacting the LitvakSIG Vilnius
District Coordinator, Peggy Freedman, to determine what new records
were scheduled to be translated in the future and how to join the
District group.
It seemed that there were so many clues and avenues to follow up on
and it all started with an article in the New York Times.
Ann Rabinowitz