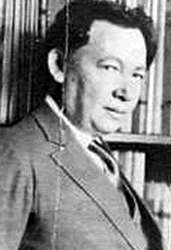 Zelig Kalmanovich
From Wikipedia, the free encyclopedia
Philologist Zelig Kalmanowicz [Kalmanovitch], a founder of YIVO (Yiddish Scientific Institute) and a participant at the 1st YIVO Conference. 1929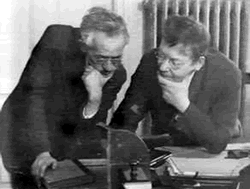 Zelig Kalmanovitch (right) and F. Halpern, posing in conversation over a book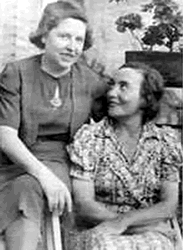 Historian Lucy Schildkret Dawidowicz from New York, then a YIVO `aspirant' (research fellow) , posing with Riva Kalmanovitch, wife of YIVO director Zelig Kalmanovitch
Kalmanowicz Zelig- Hirsz

Hirsz Kalmanowicz was born in Kuldiga in 1883 to Feibush. He was a researcher and married to Rivka nee Lurie. Hirsz perished in 1943 in Narve, Estonia. This information is based on a Page of Testimony (displayed on left) submitted by his son Shalom Lurie of Kibbutz Merchavia
Zelig Hirsch Kalmanovich (Latvian: Z?lig Hirš Kalmanovi?) (1885, Kuldiga - 1944, Narva) was a Litvak Jewish philologist, translator, historian, and community archivist of the early 20th century. He was a renowned scholar of Yiddish. In 1929 he settled in Vilna where he became an early director of YIVO.
He was incarcerated in the Vilna Ghetto where he became an observant Jew. During his time in the Ghetto Kalmanovich kept a secret diary which is one of the few primary sources recording day-to-day life. His diary stressed the efforts of the community to retain their humanity in the face of oppression. For example, on October 11, 1942, he wrote the following entry in his diary:
"On Simhat Torah eve at the invitation of the rabbi, I went for services in a house that had formerly been a synagogue and was now a music school ... I said a few words: 'Our song and dance are a form of worship. Our rejoicing is due to Him who decrees life and death. Here in the midst of this small congregation, in the poor and ruined synagogue, we are united with the whole house of Israel, not only with those who are here today ... And you in your rejoicing, atone for the sins of a generation that is perishing. I know that the Jewish people will live ... And every day the Holy One, blessed be He, in His mercy gives us a gift which we accept with joy and give thanks to His holy name."
During the Nazi occupation, he was forced to work at YIVO, sorting through the pillaged contents of Vilna's libraries and preparing selected volumes for shipment to Germany. He was sent to a death camp in Estonia, where he died in 1944.
References
* Z. Kalmanovitch, Yoman be-Getto Vilna u-Ketavim me-ha-Izavon she-Nimze'u ba-Harisot ("A Diary from the Ghetto in Nazi Vilna"), Tel Aviv, 1977, pp. 85-87.
External links
* Diary excerpts
* Wiesenthal Center page on Kalmanovich
Zelig Kalmanovitch Diary Entry
Following the Report by Gens
(October 27, 1942)
This evening at the Commander's the men were relating things that had happened to them. The scroll of agony. How they handed over 400 souls to the murderers. An order came together with a threat. They went there and a thousand and more were demanded. They demanded women and large families. Till they agreed on 600, and gave 400. Ring saved women who were already on the carts. They were assembled in the square. The children were left in the houses. It was not known in advance what their task would be. They only guessed in their hearts. Slowly, it became clear. The Jews themselves agreed when they realized that it was possible to save the rest. The rabbi ruled that the old ones should be handed over. Old ones who asked that they should be taken. There was one woman who was a hundred. They asked for police, sons of servants, soldiers of the Mistress [Germany]. They paid no heed. They offered their lives in ransom, it was not accepted. The possessions remained. The food remained. If outsiders had done the job – there would have been more victims and all the property would have been stolen. In the synagogue some read Psalms. The women wept in front of the Holy Ark....for the rest go to; http://www.jewishvirtuallibrary.org/jsource/Holocaust/Zelig.html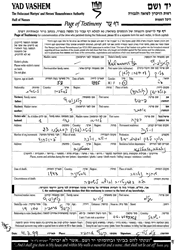 Kalmanovitsh Zelik Kalman ( nick name)

Zelik Kalman Kalmanovitsh was born in Goldingen in 1885 to Feibush and Ester. He was a ???? ???? ?????? ????? and married to Rivka nee Lurie. Prior to WWII he lived in Wilna, Poland. Kalman perished in 1943 in Narwa, Camp at the age of 58 after becoming sick with dysentery he was burned alive. This information is based on a Page of Testimony (displayed ) submitted on 04-Jul-1999 by his son Shalom Lurie ( nee Kalmanovitsh)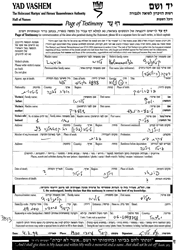 Kalmanovitsh Rivka

Rivka Kalmanovitsh nee Luria was born in Bobruysk in 1898 to Yosef and Hinda. She was a housewife and married to Zelig. Prior to WWII she lived in Wilno, Poland. During the war she was in Wilno, Ghetto. Rivka perished in Ponary, Poland at the age of 45. This information is based on a Page of Testimony (displayed on left) submitted on 04-Jul-1999 by Shalom Lurie