The YEZERSKI/JEZERSKI Family of Vilna
By Fred Klein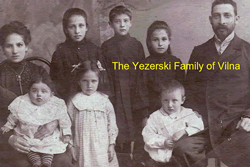 The YEZERSKI Family
Photo taken in Vilna circa 1910
Top Row - from left: BASSIA seated, CHAVA, CHYENE, DASHA, And YANKEL
Bottom: YUDEL seated on BASSIA'S lap, ROCHEL and SHOLEM.- YITZHAK and BRINA not yet born

In January of 1892, YANKEL (JACOB) YEZERSKI, of the Shtetl Vievis, married BASSIA (BESSIE) KARELSKA of Sorok Tatary in Poland. They initially lived just outside of Vilna in Szkaplerna, but after awhile moved to Vilna so that YANKEL could make a better living as a shoemaker.
On September 2, 1893, their first child, CHAVA (EVA), was born. She was followed on September 29, 1896 by DASHA (DORA). On December 20, 1900, CHYENE (ANNA), was born. In September 1903, another daughter, ROCHEL (RACHEL), was born. In August 1906, their first son, SHOLEM (SAM), was born. This was followed in August 1909 by YUDEL, and in 1912 by YITZHAK (ISAAC), and finally in 1914, by the youngest daughter, my mother, BRAJNA (BRINA).

The first child to leave Vilna was the oldest, CHAVA. She emigrated to the US in 1917, married, had 3 children, and settled in Nashua, New Hampshire. The second child to leave was DASHA. She traveled to Berlin, Germany, worked as a secretary for a short time, then emigrated to the US in 1921 and settled in New York City. The next to leave Vilna was YANKEL. He emigrated to the US in 1926, and after a brief stay in New York City, moved to Nashua, New Hampshire, living with his daughter CHAVA, and her husband, until he could get established.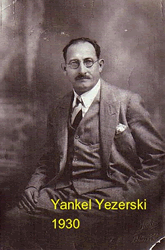 Photo of YANKEL YEZERSKI taken in US in 1930

With Yankel now working in New Hampshire he sent for his wife and youngest daughter. In 1928, as they attempted to leave, BRAJNA, was prevented from boarding the ship because of a leg deformity. Her mother left without her and BRAJNA returned to Vilna to live with her sister CHYENE and here two daughters. She remained in Vilna for another year and was finally permitted to leave Poland the following year. At 15 years of age she made the journey to Ellis Island alone.

The brothers, SHOLEM and YITZHAK, immigrated to Argentina, married, and settled in Buenos Aires. During this period, YANKEL and BASSIA, now living together in New Hampshire, had a small business making sandwiches and selling them to the local factory workers. The money they saved all went to getting their children out of Poland. In October 1936, their daughter CHYENE, and her two daughters, SONIA(SHIRLEY) and RIVKA(RUBY),were able to leave Vilna and emigrate to the US. CHYENE's husband, FEIVEL SZERESZNIEWSKA, an excellent tailor, had died in Vilna a few years before of war related wounds.

In 1941, ROCHEL, was now married to MEYER KORT, and had two daughters, MERA(15) and PESIA(13).The lived at 13 Stephanska UL., in Vilna. They had received enough funds from YANKEL to get Visa's, tickets, and the necessary paperwork to emigrate to the US. Unfortunately, during this time, the Germans invaded Poland and they were trapped. They attempted to leave by way of Russia, and then to Japan, but the Japenese attacked Pearl Harbor in December 1941 and all avenues of exit were cut of for the family.

In 1947, a Holocaust survivor, ROCHEL's sister-in-law, PESIA KLORIN YEZERSKA, arrived in the US and told the family that MEYER and ROCHEL had been shot by the Germans in Vilna, and that the two daughters had been taken away by the German soldiers never to be seen again. This apparently took place sometime in late 1941 or early 1942.

In 1935, YUDEL, an accountant, had married PESIA KLORIN, and they settled at #5 Makowa Ul., in Vilna. Both were professionally employed and running a very good business. They had no interest in leaving Vilna and emigrating to the US. In 1938, PESIA gave birth to a son, SAMUEL. In 1941, the Germans occupied Vilna and shortly thereafter YUDEL and his family were forced to move into the Vilna Ghetto. PESIA witnessd her father, SIMCHA JACOB KLORIN, taken from his apartment, in July 1941, to be executed at Ponary. Her mother was taken in December 1942 and also executed at Ponary.

However, PESIA, YUDEL and SAMUEL remained alive and together, and "fortunate" enough to work at the H.K.P. Lager, in the Ghetto, under an SS Major Plagge. One German that at least tried to keep as many Jews alive as possible. The family remained together, and alive, until March 27, 1944, when early in the morning, after the men had left for work, "uniformed soldiers" entered the camp and forcibly removed as many children as they could find. PESIA was struck in the face with a rifle butt, blinding her in one eye, while attempting to fight off the soldiers. SAMUEL was taken, along with the other children, and shipped to Auschwitz and killed in the gas chambers. YUDEL was never the same after that incident and apparently had lost his interest in living. He began taking very dangerous chances, like smuggling food, and other items, into the ghetto. It was during the Russian liberation of Vilna in 1944, that YUDEL was shot and killed, but PESIA survived.
After the war she was moved from one DP camp to another until she was brought to the US by YANKEL in 1947. After only 6 months, PESIA felt she could not live in such a small town as Nashua and left for New York City. She was able to meet up with other Holocaust survivors and restart her life again. She married NATHAN OLMER and remained in New York City until her death in January 1991

It was also at this time that YANKEL was able to bring his son SHOLEM and his family to the US from Argentina. His other son, YUDEL, chose to emigrate with his family to Israel, from Argentina, were he remains the only living child of YANKEL and BASSIA YEZERSKI..
This brief family history continues to be an on-going work in progress. I am the grandson of YANKEL and BASSIA, and the son of BRAJNA. It has taken me a number of years to piece together the history that I have. I am constantly searching for any information, especially on the KORT Family, and the two daughters, MERA and PESIA. If any of the above, YEZERSKI Family names, or information, sounds familiar to you, please do not hesitate to contact me at:
adam 1 gs@adelphia.net.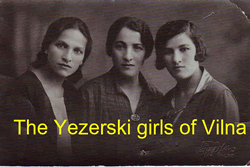 Photo, from left to right, of ROCHEL CHYENE, and BRAJNA, taken In Vilna, Poland around 1925