#dere-1:

Standing in the back row, second from the left: Sheva (Bas-Sheva) BESHKIN (BESZKIN). She was my great aunt. She moved to Canada in the early 1930's, married David MATLOW (MATLOVSKY), and died in 1988.
Back row, 4th from the left (in the middle): Rivka BESHKIN (BESZKIN), Sheva's sister. She was married to Moshe TABOLSKY, who became a cantor in Derechin (after Rivka's father, the cantor, Tsvi Hirsh, died). Rivka was killed in the Holocaust.
Back row, 2nd from right: my great aunt, Teme ORZHECHOWSKY. Her husband's name may have been ZELVIANSKY. She died in the Holocaust. (Teme's sister, Sora Golde, was my grandmother. She moved to Canada in around 1929 and died in Detroit in 1973.)

Marty Liebman
I (Eilat) met ( 8-17 2019) the daughter and granddaughter of the woman on the top left. The woman and her daughter survived the holocaust and came to Israel in 1949.

#dere-2:

#dere-3:

#dere-4:

#dere-5:

#dere-6:

#dere-7:

#dere-8:

#dere-9:

#dere-10:

#dere-11:

#dere-12:

#dere-13:

#dere-14:

#dere-15:

#dere-16:

#dere-17:

The Wolfowich Family, Slonim
Dvorah-Leah and Yuda
On far left & far right twin sisters Yaffa & Rachel
In the middle, Lyota (Elliot), & on either side of him, Hadassah & Mina
On the table, a photo of Jack (Yankel) & Bettina Dintzer, which had been sent from America

#dere-18:

The Abramowicz family, Dereczyn 1926, just prior to Shimon's
departure for Palestine. Shimon is standing in the upper
middle. To his left and right are his sisters
Lea and Frida. Shimon's mother (Itke) is seated below him,
and Shimon's father (Elias) is seated to the right.
To the left of Itke is Shimon's older brother Menachem-Mendl.
Lower right is Shimon's brother Moshe.
Next to Moshe must be Rivka (although she looks like a boy)
at an age of about one year. And to her left is Batsheva.
If you have any information write Amiel; amiel@wise.tau.ac.il

#dere-19:

The back side of The Abramowicz family postcard photo with handwriting.
The entire family ( other then Shimon who was in Israel), perished in the Shoah
If you have any information write Amiel; amiel@wise.tau.ac.il

#dere-20:

The Synagogue

#dere-21:

Shimon Abramowicz soon after his arrival in Tel Aviv . It looks like this was
taken at the same time as the group photo on the
website (dere #14- picture of the first Derechin' Chalutzim to leave for Israel) from the Yizkor book, but if you look
carefully you will see that Shimon's arm is positioned
differently, so this is not the same photograph.

Amiel

#dere-22:

David Alper Elfer was born in Dereczyn, Poland in 1895. He was a teacher and married to Shoshana. Prior to WWII he lived in Pinsk, Poland. During the war he was in Pinsk, Poland.

David was murdered in the Shoah.

This information is based on a Page of Testimony (displayed here) submitted by his nephew Benjamin Barlas

#dere-23:

Moshe Asaf was born in Dereczyn, Poland to Avraham and Perel. He was a cantor and married to Klara nee Pesakhovitz. Prior to WWII he lived in Dereczyn, Poland. During the war he was in Dereczyn, Poland.

Moshe was murdered in the Shoah.

This information is based on a Page of Testimony submitted by his daughter, Pnina Pola Kochin Asaf

#dere-24:

The group photo says on the bottom in Hebrew:
Those of the first immigration of pioneers from Derczyn to Eretz Israel
from the right - sitting:
Dov Gurinowski, Ester Gurinowski, blessed memory, Rachel Polczyk, blessed memory, Idel Berniker;
Standing: Dawid Rabinowicz of blessed memory, Malka Alper, Szymon Abramowicz
Jewish Encyclopedia published between 1901-1906
DERECHIN:
By : Herman Rosenthal S. Janovsky Town in the government of Grodno, Russia. According to the census of 1897 it has a population of 2,289, of whom 1,573 are Jews. The main sources of income are in trade and handicrafts. There are 227 artisans. Shoemaking is the most important industry, affording occupation for 71 persons. The industrial output of the town is sold at the annual fairs. There are 46 Jewish day-laborers, 28 factory employees, and 6 families are engaged in truck-farming. Near the town is situated the Jewish agricultural colony of Sinaiskaya (The jews named it for Sinai), where 30 families are engaged in agriculture. (many of them left for Israel after the article was written) In all they own 187 deciatines of land. The charitable institutions are: Gemilut Chasadim (Interest free loans), Tomek Noflim (helping the "fallen"), Malbish 'Arummim ("clothing the naked"), Linat ha-Zedek, (giving place to sleep to the homeless) Haknas at Orchim (receiving guests), and Bikur cholim (visiting the sick). The town has a Talmud Torah with 50 pupils, and 15 Chadarim with 150 pupils.
Herman Rosenthal
1942 July 24, DERECHIN (Poland before 1939 ) After witnessing the murder of his sister and parents a few months earlier, Dr. Yehezkel Atlas joined with Boris Bulat and Pavel Bulak to form a partisan unit which included the surviving families from Derechin and the surrounding area. His second in command was a man of unbelievable strength named Eliyahu Kowienski. Atlas told those joining him "Every additional day in your life is not yours but belongs to your murdered families. You must avenge them."
1942 August 10, DERECHIN (Poland before 1939) Yehezkel Atlas helped organize 300 partisans to retake the town. 17 Germans and 2 Lithuanians were killed. Another 44 were captured and executed over the Jewish mass grave.
After escaping from the liquidated Derechin ghetto, Atlas organized 120 Jews into a partisan unit in the Lipiczani forests. Famous for his daring exploits, Atlas was killed in combat.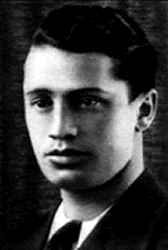 Jewish History http://www.davidsconsultants.com/jewishhistory/history.php?updated=1
December 5, 1942 -
Dr. Yehezkel Atlas, the founder and commander of a Jewish partisan unite falls in a battle with Germans
Books;
Bornstein, Samuel. Pelugat ha-doktor Atlas: Sipuro shel partizen yehudi (The battalion of Dr. Atlas: The story of a Jewish partisan). Tel Aviv: United Kibbutz Movement, 1948
Samuel Bornstein was in Derechin in 1941- 1942 and wrote about Derechin during the war.A youth underground arose in Derechin in 1941. Its aims were to escape to the forests and to offer armed resistance. During an Aktion in July, Jews who had built bunkers went into hiding and about 300 (some of whom later became well-known partisans) fled to the forest. On Aug. 10, 1942, Jewish partisans led an armed attack on the German garrison in Derechin. Many Jewish fighters fell in battle Simon Wiesenthal Center Multimedia Learning Center Online - 01772 - DERECHIN.RR
Max Cukier as told by his son, Jeff Cukier ;
....Upon the German occupation of Mulchat in 1941, my father was offered a role in the Juderat (the Jewish police), but he declined. He realized that the country was in trouble and that he would need to inform people of what he has seen and heard about the Germans and the war. He headed to the small village of Bialoggoina where he met some Red Army personnel who supplied him with guns and grenades. He was assigned a captain to help him set mines at the railroad stations and cut telephone wires. Later, he learned that some of the very men who worked with him were abusing the female Partisans. When he confronted these men, the captain whom he worked with shot him in the leg. The famous Dr. Atlas removed the bullet from my father's leg and introduced my father to a group of approximately 300 people that called themselves Tel Aviv. Now, with the Partisans group growing larger, my father felt he should let more people know. He went to Devoretz and explained to the Juderat how strong the Partisans had become. He begged them to allow him to take the Jews out of the town. After some discussion, they let him to remove three people. After they left, the Germans attacked the town, and everyone was killed.
My father spent the remainder of the war attacking small towns that the Germans were occupying, setting mines, destroying bridges and cutting telephone wires in strategic areas in the towns of Solim, Baranfish, Jewlovik and Noborgrodek. Sleeping on the ground in the summer and in graves or caves in the winter, the Partisans used wood or what ever they could find to shield themselves from the cold. Food did not come easily, but sometimes the Gentiles in the area would help them out. ....

Notes from the arcives;
Sefer Deretsin / Raban, Yehezkel. [Tel-Aviv] 1971 or 1972
Wolkovisker Yizkor Book
cotains a brief mentions of the following town;
DERECHIN 53°10' 24°28' 19.5 miles ENE of Volkovysk

BERLIN from Derechin and Slonim, Belarus.
Nicole Berline , Paris
Searching for: ABELOVICH (Derechin to Canada, Israel, New York and
Argentina), "Kevin Hanit" <klh44@rogers.com>
DERECHINSKY from Derechin, Russia MILTGOLD@aol.com
Could someone help me find out where these two shtetls, Derechin and Djetl
> were located? Both were at some time in Russia and in Poland, and in
> Derechin, there was a Russian military fort. Any help would be greatly
> appreciated.
>
> Thanks,
> Josh Bronw gettysburg63@msn.com
Region Community Nr. of Yizkor Article in YV
Voivodship The Jews Book Pinkas Hakehilot NOWOGRODEK DERECZYN 1,346
Are there any interesting in Jewish Calendars Derechin(scale 13 sm. X 18 sm.)
with pictures and description in English of the Belarus synagogues and their
shtetl natives?
Kind regards,
Leonid Smilovitsky.
Researching: PEJLATOWICZ: Derechin, Belarus Mark L. Spiegel wysiwig@earthlink.net
ABELOVITCH, GRACHUK, KLETSKIN: Derechin Dave Siskind siskind@silvertip.nrl.navy.mil>
We are planning a tour to Slonim and the shtetlech around,like
Byten,Kossovo, Rozhnoy, Zelva, Derechin, Halinka etc. on June. It is
possible to include Poland to visit some of the concentration camps,
Maydanek & Auschwits * Plashov. We have made some similar tours in the past.
The interest people can contact us to get more information.
Zvi Shefet
Chairman of Slonim Jews' assoc. Israel slonim_assoc@email.com>
Seeking: PEJLATOWICZ, GURVITZ - Derechin and Bialystok Mark Spiegel
researching FREEDMAN from Slonim and Derechin, Belarus
Everett Leiter <71763.2657@compuserve.com>In preparation for a trip to Belarus in 2 weeks, I have been having several
portions of this Yizkor book professionally translated. I have thus far
translated the table of contents, several chapters pertaining to the
destruction, and 2 essays of reminiscence.Translation is quite expensive, so I've been limited in how much I could
afford. I belong to the Yizkor Translation SIG here, but thought I would
post a general notice to ask whether anyone else is interested in pooling
resources to do more of this translation.Let me know if you're interested in contributing to a Derechin Yizkor Book
translation.Everett Leiterresearching: FREEDMAN, SLONIMSKY, SAWIERZANSKY in Slonim, Derechin...Belarus.
In 1890 Yosef and Ruchama GOLDBERG were living in Sviosloch. Yosef was the son
of Ephraim GOLDBERG of Derechin. Ruchama was the daughter of Rabbi Mordechai
Gimpel YAFFE of Ruzhany (Rizinoi) and later know as "The Rav of Yehud". Does
anyone know anything about this couple and their family?Many thanksAbraham Goldberg
Jerusalem
e-mail: 100274.3335@compuserve.com
I am searching for information on the Partisan resistance efforts in
and around Derechin/Slonim. Specifically, there was a Dr. Yucheskol
Atlas who is documented with his partisan groups efforts in the
Derechin Yiskor book. I believe his group was active from 1940 to 1943
although I havent verified this yet.
I am searching for my uncle Isidor Epstein (b.1921), the son of
Shalom (b.1895) and Sarah Epstein (b.1898), who could possibly have
fought with the partisans in the forest around the town. Isidor would
have been 21 when the final massacre occurred in Derechin on July 24,
1942. We know from postcards that he had left the town and traveled in
Russia in 1940 and 41 where he labored in mines around Minsk. However
we dont know if he remained there or was forced back to Poland where he
would have returned to Derechin.
Email address: sapearl@mindspring.com
SLUTSKY - Derechin, Belarus \ Zhetel, Belarus Shavit Ben - Arie, Israel jacob <jacob@isdn.net.il>
Subject: Re: "Holyka in Belarus" In her 07-12-01 message Lynn Kaye said information about "Holyka in
Belarus" would be welcome.Ms. Kaye's town may be "Holynka" or "Holinka" which is close to Derechin
and east of Bialystok. It is mentioned in the Derechin Yizkor book.There is also a Holynka or Holinka which is northwest of Grodno,near
Sopotzkin. Although I may have overlooked them, even while spelling the name in
various ways,I could not find any entries about either of this towns in
my usual sources, other than in Chester G. Cohen's "Shtetl Finder
Gazetteer," nor could I find anything by spelling it simply as "Holyka."
Naomi Fatouros
Hello,I am trying to find out my missing relatives that are related to a Chana
Abelowicz from Dereczyn, Poland or Dereczyne, Russia. This is now present
day Derechin, Belarus. Derechin as our relatives who lived there know it,
does not exist any more. The German's destroyed it in 1942.Thanks,
Kevin Hanit
Date: Tue, 19 Aug 2003 01:13:06 -0400
From: Itzhak Epstein <Itzhak.Epstein@earthlink.net>
Subject: A Tale of Three Shtetles, and JGFF. I have returned to research my roots in Drogichin, Belarus -- 5211
2509. The JGFF lists 146 entries under this name and has been properly
enforcing the uniform spelling. 107 Miles to its west, in Poland, there
is the identically (or at least very similarly) pronounced Drohiczyn --
5224 2239. Among its 46 JGFF entries, at least some should have been
listen under its Belorussian namesake. To compound the confusion -- there
is (the very similarly pronounced/mispronounced) Derechin (different DM
Soundex), Belarus -- 5315 2455 -- with 73 entries, of which at least some
should have been listed under my Drogichin. The two Belorussian towns
were in Poland between the two world wars.Someday, maybe, JewishGen
may find the resources to ask researchers to
review old entries.Itzhak Epstein New York, NY
<mailto:itzhak.epstein@earthlink.net>
BLR-DERECHIN. A mailing list for anyone with a genealogical interest in the town of Derechin, Belarus. To subscribe send "subscribe" to blr-derechin-l-request@rootsweb.com (mail mode) or blr-derechin-d-request@rootsweb.com (digest mode).