#lvov-2:

Summer 1934
Cecylia Thau (on the right, marked in red)

#lvov-3:

The beer factory 1930s

#lvov-4:

Physicians, senior lecturers, and specialists at the university hospital in Lvov

#lvov-6:

a Jewish meeting in Lvov in 1932

#lvov-7:

during WWII Aharon Scharf joined the partisans.

#lvov-8:

#lvov-9:

Kristina Chiger and her brother Pawel, Jewish siblings from Lvov. The two, their parents, and other Jews stayed for 14 months in the city's sewer system during the German occupation. See: Marshall, Robert, "In the Sewers of Lvov: the Last Sanctuar

#lvov-10

Photographed at the wedding of Rozia Baum and Henry - Heniek Hochberg on March 16, 1937.

#lvov-11:

In the fish-market 1930s

#lvov-12:

The hanging of seven members of the Lvov ghetto Judenrat. Photographed in 1941.

#lvov-13:

Members of Hachalutz during the war.

#lvov-14:

Surrounded by Ukrainian rioters, during the pogroms of early July 1941.

#lvov-15:

A Jewish young woman, her clothes torn, sitting on a street with her mother and surrounded by Ukrainian rioters in Lvov, during the pogroms of early July 1941. On June 30, 1941, Lvov was conquered by the Germans. Pogroms against the Jews began that day, carried out by Ukranian
civilians.

#lvov-16:

Jewish women forced into a ghetto Photographed on June 30, 1941.

#lvov-17:

The German army entering Lvov. The city's inhabitants are standing on either side of the road, cheering and applauding. Photographed on June 30, 1941.

#lvov-18:


A convention of Gordonia youth movement members during a He - Chaluts organization conference in Lvov. Photographed in 1934 or 1935.

#lvov-19:

Members of Jewish Youth movement 1932

#lvov-20:

Jewish children

#lvov-21:

The Jewish quarter Lwow after the pogrom of 1918

#lvov-22:

#lvov-23:

#lvov-24:

#lvov-25:

#lvov-26:

#lvov-27:

#lvov-28:

Martin Buber (born in Lvov in 1878 - d. 1965)

#lvov-29:

#lvov-30:

#lvov-31:

Members of Hachalutz during the war.

#lvov-32:

Members of Hachalutz during the war.

#lvov-33:

Leah Barchenko, Israel galili, Kapli Shaul, Esther Shaul, Chava (Buzia) Havkin, Ya'acov Galili, Gershon Berchenko

#lvov-35:

Helena Thieberg was born in Krakow, Poland in 1891 to Joseph Eliezer (Lazar) Myersdorf and Hinda nee Anisfeld She was a housewife and married Kalman. Prior to WWII she lived in Lwow, Poland. During the war she was in Lwow, Poland.

Helena was murdered in the Shoah.

This information is based on a Page of Testimony (displayed on left) submitted by her son.

#lvov-36:

Józef Wittlin and his wife Halina, on their honeymoon, Lwów, 1924. (YIVO)

#lvov-37:

Lwow, 1940
Ania Witlin
BIRTH: 1920
LWOW
DEATH: 1943
Lwow or Belze
Chana Anna Nadel BIRTH: 1923
CITY: Lwow
DEATH: 1943

#lvov-38:

MAKHLIA KHALZOVA, HER SISTER ITTA VERSHKINA AND THEIR CHILDREN LVOV 1957

#lvov-40:

I am trying to determine the identity of a group of people in a black-and-white photo from the 1930's, taken in Lwow. The only name on the back that I can decipher is "Rochele Pliskin".

My late father Lev (OHS) is in the photo, too. I believe this group of people worked for Josef Bussgang & Sons, Lwow.

Dad emigrated to New York in 1938. See: https://www.youtube.com/watch?v=RsfHPJyDzzw. He was drafted into the US Army in 1942 and won the Silver Star medal for heroism in Germany in 1944. I have attached a photo of him after his unit, the 104th Infantry Division, helped capture Cologne.

Respectfully,

Colonel (Retired) Roy Marokus, MD, MPH
PO Box 3479
Harker Heights, Texas 76548
Cell: (254) 317-7569

#lvov-41:

Leon Sperling
Birth: August 7, 1900
Krakow, Kraków County, Lesser Poland Voivodeship, Poland
Death: December 20, 1941 (41)
Lviv, Lviv Oblast, Ukraine (Murdered by the Nazis)

#lvov-42:

#lvov-43:

From: John panzer <pnzer23@hotmail.com>

Ignacy Neuer Panzer
Birth Lwow March 14, 1923
Death place and date unknown - early 1945 possibly Slovaquia
Attended Gymnasium #2 (German Gymnasium)
Son of Jacob Neuer Panzer and Lea Lempert
Brother of David Neuer Panzer (1926-2003)

#lvov-44:

KarenAFrenkel

#RefugeesHowFar September 17, 1944: My father celebrated the Jewish new year in newly liberated Paris WeAre1: Liberté, Egalité, Fraternité et Rosh Hashanah 1944 http://www.karenafrenkel.com/blog Below, near opera house Palais Garnier. HOW FAR https://tinyurl.com/y5xcwkln.

My father was from Lwów. He left in March 1939.

#lvov-45:

#lvov-46:

#lvov-49:

#lvov-50:

#lvov-51:

#lvov-52:

#lvov-53:

#lvov-54:
Books about the City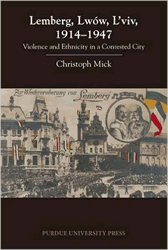 ISBN-13: 978-0801453915
ISBN-10: 0801453917
Lemberg, Lwów, L'viv, 1914-1947: Violence and Ethnicity in a Contested City (Central European Studies) Paperback – November 15, 2015
by Christoph Mick (Author)
• 1Known as Lemberg in German and Lwów in Polish, the city of L'viv in modern Ukraine was in the crosshairs of imperial and national aspirations for much of the twentieth century. This book tells the compelling story of how its inhabitants (Roman Catholic Poles, Greek Catholic Ukrainians, and Jews) reacted to the sweeping political changes during and after World Wars I and II. The Eastern Front shifted back and forth, and the city changed hands seven times. At the end of each war, L'viv found itself in the hands of a different state. While serious tensions had existed among Poles, Ukrainians/Ruthenians, and Jews in the city, before 1914 eruptions of violence were still infrequent. The changes of political control over the city during World War I led to increased intergroup frictions, new power relations, and episodes of shocking violence, particularly against Jews. The city's incorporation into the independent Polish Republic in November 1918 after a brief period of Ukrainian rule sparked intensified conflict. Ukrainians faced discrimination and political repression under the new government, and Ukrainian nationalists attacked the Polish state. In the 1930s, anti-Semitism increased sharply. During World War II, the city experienced first Soviet rule, then Nazi occupation, and finally Soviet conquest. The Nazis deported and murdered nearly all of the city's large Jewish population, and at the end of the war the Soviet forces expelled the city's Polish inhabitants. Based on archival research conducted in L'viv, Kiev, Warsaw, Vienna, Berlin, and Moscow, as well as an array of contemporary printed sources and scholarly studies, this book examines how the inhabitants of the city reacted to the changes in political control, and how ethnic and national ideologies shaped their dealings with each other. An earlier German version of this volume was published as Kriegserfahrungen in einer multiethnischen Stadt: Lemberg 1914-1947 (2011).

• The Gates of Europe: A History of Ukraine Hardcover – December 1, 2015
by Serhii Plokhy (Author)

•
"1946" by Victor Sebestyen
• The year it was decided there would be a Jewish homeland, that Europe would be split by the Iron Curtain, independent India would become the world's biggest democracy, and the Chinese communists would win a civil war that positioned them to become a great power. Learn more | See related books
The Paradox of Ukrainian Lviv: A Borderland City between Stalinists, Nazis, and Nationalists 1st Edition
by Tarik Cyril Amar (Author)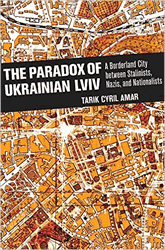 The Paradox of Ukrainian Lviv, Tarik Cyril Amar reveals the local and transnational forces behind the twentieth-century transformation of one of East Central Europe's most important multiethnic borderland cities into a Soviet and Ukrainian urban center. Today, Lviv is the modern metropole of the western part of independent Ukraine and a center and symbol of Ukrainian national identity as well as nationalism. Over the last three centuries it has also been part of the Habsburg Empire, interwar Poland, a World War I Russian occupation regime, the Nazi Generalgouvernement, and, until 1991, the Soviet Union.
Lviv's twentieth-century history was marked by great violence, massive population changes, and fundamental transformation. Under Habsburg and Polish rule up to World War II, Lviv was a predominantly Polish city as well as one of the major centers of European Jewish life. Immediately after World War II, Lviv underwent rapid Soviet modernization, bringing further extensive change. Over the postwar period, the city became preponderantly Ukrainian—ethnically, linguistically, and in terms of its residents' self-perception. Against this background, Amar explains a striking paradox: Soviet rule, which came to Lviv in its most ruthless Stalinist shape and lasted for half a century, left behind the most Ukrainian version of the city in history. In reconstructing this dramatic and profound change, Amar also illuminates the historical background to present-day identities and tensions within Ukraine.